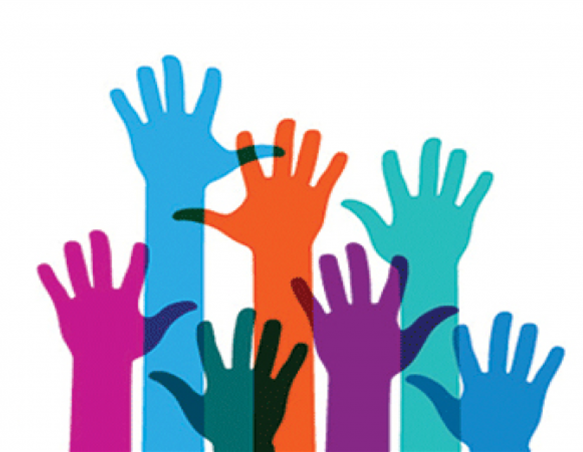 Right here in our community business leaders, community advocates, parents, teens and individuals who want to give back and support their neighbors volunteer at the Y. That's because we have the presence and partnerships to not just promise, but deliver positive, personal and social change
With a focus on youth development, healthy living and social responsibility, Y volunteers give men, women and children of all ages and from all walks of life the resources and support they need to be healthy, confident, connected and secure.
Volunteers of the Y:
Lead our Board of Directors and committees

Raise funds to ensure the Y is accessible to all members of the community

Coach our sports teams and teach many of our classes

Motivate and support youth in building the character strengths, skills and relationships that lead to positive behaviors, better health, smart life choices, and the pursuit of higher education and goals

Extend a hand to help adults who want to do more, be more or live healthier

Advocate for the Y's efforts to influence policies and initiatives that positively impact societal issues of importance to the nation, and your community

Participate in opportunities to give back and support neighbors
The Y is a nonprofit like no other. Take an active role in strengthening your community.
GET INVOLVED AS A Y VOLUNTEER – WE NEED YOU
The Y is a cause for strengthening communities, committed every day to youth development, healthy living and social responsibility. When you volunteer at the Y, you take an active role in bringing about meaningful, enduring change right in your own neighborhood.
Each of our volunteers helps deliver the benefits of good health, strong connections, greater self-confidence and a sense of security to all who seek it. Everyone has something to give – whether it's time, wisdom, talent, financial support or caring! 
Please consider becoming a Y volunteer, we have volunteer opportunities in the following areas:
Fund-Raising Volunteers – the Y never turns anyone away due to inability to pay, and as a result we have a Strong Kids campaign each year that helps to subsidize programming, childcare and memberships for those who need assistance. Without the help of our dedicated fundraising volunteers, we would struggle to assist as many individuals and families that we do.
Support/Administrative Volunteers – these are people who help us keep the Y running by helping out in the office.
Program Volunteers – people who have direct contact with members who help deliver programs and services such as Youth Sports, Swimming Lessons, Teen Programs and Special Events.
Volunteer Opportunities
Title of Role: Front Desk Support
Tasks and Activities: Helping to support the front desk staff by answering phones, stocking supplies, giving tours, and helping with those visiting the Y. Rotate around the YMCA facility offering support where needed. 
Age Requirements: 18+
Length of Commitment: at volunteers' preference
Estimated hours/month: 4+ hours a month
Scheduling: Evenings Monday – Thursday 5:00PM – 7:30PM, Fridays 5:00PM - 7:00PM and weekends, Saturdays 9:00AM -12:00PM or Sundays 1:00PM - 4:00PM
Location: YMCA Main or William K Nitterhouse Family Program Center
Dress Code: Y shirt, pants/skirt, comfortable shoes
Qualifications and Skills Desired: Understanding of the Y's values. Able to communicate with Y members and visitors about the Y. Ability to work with people and comfortably answer phones. 
Supervisor: Jules Morey
Aquatic Opportunities
Title of Role: Swim Lesson Instructor 
Tasks and Activities: Instructors will provide direct leadership, instruction and motivation for students in swim lessons and to promote safety, self-confidence, a healthy lifestyle and member involvement.
Age Requirements: 16+
Length of Commitment: 5 Week Sessions
Estimated hours/month: 4-6 hours per month
Scheduling: Evenings, hours vary from 4:30-6:30
Location: YMCA Main | 570 E. McKinley Street. Chambersburg, PA 17201
Dress Code: Swim attire, instructor will be in an out of water
Qualifications and Skills Desired: Passion to teach children, understanding of water safety and basic swimming knowledge.
Supervisor: Anthony Addlesberger 
---
Title of Role: Swim Lesson Instructor Aid

Tasks and Activities: Follow the lesson plan of the lead lesson instructor. Swim lesson teacher aids will be under the direction of the swim instructor, providing instruction to students to promote swim safety and self-confidence.
Age Requirements: 16+
Length of Commitment: 5 Week Sessions
Estimated hours/month: 4-6 hours per month
Scheduling: Evenings, hours vary from 4:30-6:30
Location: YMCA Main | 570 E. McKinley Street. Chambersburg, PA 17201
Dress Code: Swim attire, swim aid will be in an out of water
Qualifications and Skills Desired: Basic knowledge of swimming. Ability to work with and teach children. 

Supervisor: Anthony Addlesberger | Swim Instructor
Child Care Opportunities
Title of Role: Babysitting 
Tasks and Activities:

Providing care for babies and children ages 2 months – 7 years old. 

Age Requirements:

16+

Length of Commitment:

Volunteer's preference 

Estimated hours/month

: 2- 20 hours/month

Scheduling:

Mornings 8:30AM - 11:30AM | Evenings 5:30PM - 7:30PM

Location

: YMCA Main | 570 E. McKinley Street, Chambersburg, PA 17201

Dress Code

: Y shirt, shorts or pants, comfortable shoes

Qualifications and Skills Desired:

Experience working with infants and children. 

Training and other requirements

: CPR certified (can be obtained through the Y if not yet certified)

Supervisor: Kim Bennett
---
Title of Role: Child Watch 

Tasks and Activities: Available for ages 7-11 years, children can hang out under the guidance of a child watch employee safely doing activities, games, and exercises to entertain while parents are utilizing the Y. 
Age Requirements: 16+
Length of Commitment: throughout the year
Estimated hours/month: 8 -24 hours/month 
Scheduling: Monday – Thursday evenings – 5:30-7:30PM
Location: YMCA Main | 570 E. McKinley Street, Chambersburg, PA 17201
Dress Code: Y shirt, shorts or pants, comfortable shoes
Qualifications and Skills Desired: Ability to work with children, be creative and able to switch gears to reflect the needs of the children. 
Training and other requirements: CPR certified (can be obtained through the Y if not yet certified)
Supervisor: Kim Bennett
---
Title of Role: Biddy/Youth Sports Coach
Tasks and Activities: The Y offers multiple sports for toddlers and youth throughout the year verifying from soccer, basketball, and t-ball. Coaches help children with skills and drills practice for the sport developing their understanding of the game.
Age Requirements: 15+
Length of Commitment: 5-week sessions
Estimated hours/month: 4-8 hours/month
Scheduling: Saturday mornings: 9:00AM - 10:00AM, 10:00AM - 11:00AM
Location: YMCA Main OR William K Nitterhouse Family Program Center field
Dress Code: Y shirt, shorts or pants, comfortable shoes
Qualifications and Skills Desired: Understanding of the sport and ability to lead. Able to work with children. 
Supervisor: Danessa Myers & Ben Pessah-Berlin
---
Title of Role: Sam's Club Volunteer 

Tasks and Activities: Support evening activities with children in the community with games, education, and fellowship. 
Age Requirements: 18+
Length of Commitment: throughout the school year
Estimated hours/month: 8 hours/month
Scheduling: Tuesdays 6:00PM - 8:30PM
Location: YMCA Main | 570 E McKinley St., Chambersburg, PA 17201
Dress Code: Y shirt, shorts or pants, comfortable shoes
Qualifications and Skills Desired: Ability to work with the children, create fun games and activities. 
Supervisor: Linda Batz
---
Title of Role: Friday Night Out Volunteer 
Tasks and Activities: Once a month the Y provides care for children 1st – 7th grade offering different themed nights, while parents have a night out. Volunteers provide support for lead instructor offering care and activities for children. 
Age Requirements: 16+
Length of Commitment: during the school year, once a month 
Estimated hours/month: 2.5 hours/month 
Scheduling: Friday – 5:00 – 7:30PM
Location: YMCA Main | 570 E McKinley St., Chambersburg, PA 17201
Dress Code: Y shirt, shorts or pants, comfortable shoes
Qualifications and Skills Desired: enjoyment working with kids, being creative, offering support and fun for children involved in the Friday night activity. 
Supervisor: Chris Misner
---
Education & Teaching Opportunities
Title of Role: Preschool Teacher Aid 
Tasks and Activities: Following the direction of the lead teacher, the Teacher Aid offers support with lessons, games, and working with children. 
Age Requirements: 18+
Length of Commitment: Available throughout the year – Monday - Friday
Estimated hours/month: Volunteer's preference. 
Scheduling: Monday – Friday various hours available 8am-3pm
Location: YMCA Main & William K Nitterhouse Family Program Center
Dress Code: Comfortable clothing and shoes
Qualifications and Skills Desired: Experience working with children Pre-K in a school setting. Experience teaching is a plus. 
Training and other requirements: CPR certified (can be obtained through the Y if not yet certified)
Supervisor: Danessa Myers & Melanie Cook
---
Title of Role: Before and After School Counselor 
Tasks and Activities

: Working with children before and after school at a school site or at the Y, providing care and support. 

Age Requirements:

18+

Length of Commitment:

throughout the school year

Estimated hours/month:

Volunteer's preference 

Scheduling: Monday – Friday 6:30AM – 8:45AM and/or 2:45PM - 5:30PM
Location: YMCA Main, Scotland, Fayetteville, Falling Springs, Hamilton Heights, South Hamilton, Grandview, New Franklin, Corpus Christi 
Dress Code: Y shirt, shorts or pants, comfortable shoes
Qualifications and Skills Desired: Ability to work with children. Experience with children or college credits in a related field required. 
Training and other requirements: CPR certified (can be obtained through the Y if not yet certified)
Supervisor: Chris Misner
 
Healthy Living Opportunities
Title of Role: Rock Steady Boxing Aid

Tasks and Activities: Works under the direction of the Rock Steady Boxing teacher. Sets up the room for boxing class and helps remove equipment as well. Guides the boxer through each exercise offering support and instruction. 
Age Requirements: 18+
Length of Commitment: throughout the year
Estimated hours/month: 4+ hours/month
Scheduling: Monday – Thursday: 12:00-3:30 and Fridays 11:30-1PM
Location: William K Nitterhouse Family Program Center 
Dress Code: Comfortable clothing and shoes
Qualifications and Skills Desired: Passion to help people. Ability to explain clearly instructions and exercises. 
Supervisor: Angie Hoffmann